A sitemap is a list of all post, pages, categories, and tags used on your website. This list is stored as an xml file that can submitted to search engines for fast and easy indexing.
When sitemaps first entered the WordPress world, they were often an HTML list of all the site's pages for users to easily navigate. As, time has went on the old HTML format was replaced by XML, and the target audience moved from humans to search engine bots.
It is a common, but an incorrect thought that sitemaps alone will help your site rank better on search engines. This is not the case, it is simply a way to tell search engine what content your site has available to users. This list of content is stored within the search engine's archives to be available to the search engine's users. Ranking on search engines, is a complex matter that involves not only sitemaps but also, site speed, SEO Keyword research, internal and external linking just to name a few. To further complicate maters search engines routinely update their search engine algorithms making it seem improbable to stay ahead of the curve. In fact, according to Google in 2018 they made a whopping total of 3,234 updates that breaks down to roughly 9 algorithm changes per day.
So is it even worth your time to make an XML Sitemap?
Short answer, Yes! We know that when dealing with ever changing SEO it can be easy to feel like you're never going to catch up. However, there are a few basic needs for all websites, including a sitemap. While the sitemap alone will not affect the SEO ranking of your site. It does, however, provide the search engine with important data, such as which content is important to index and which is not (these pages include a noindex in the robots.txt file) as well as how frequent your content is updated. The more current content stored within the search engines archives the more likely the user's internet search will result in a visit to your site.
Ok, so it's important, then how do you make one?
WordPress has many plugins that offer the ability to create an XML sitemap. Here we are going to focus on the popular plugin Yoast SEO.
First, you must install the Yoast SEO plugin from the WordPress repository. This XML sitemap can be created on the free as well as the paid pro version of Yoast SEO. Once the plugin is installed and activated the setting can be found under Yoast> General>Features as shown in the image below: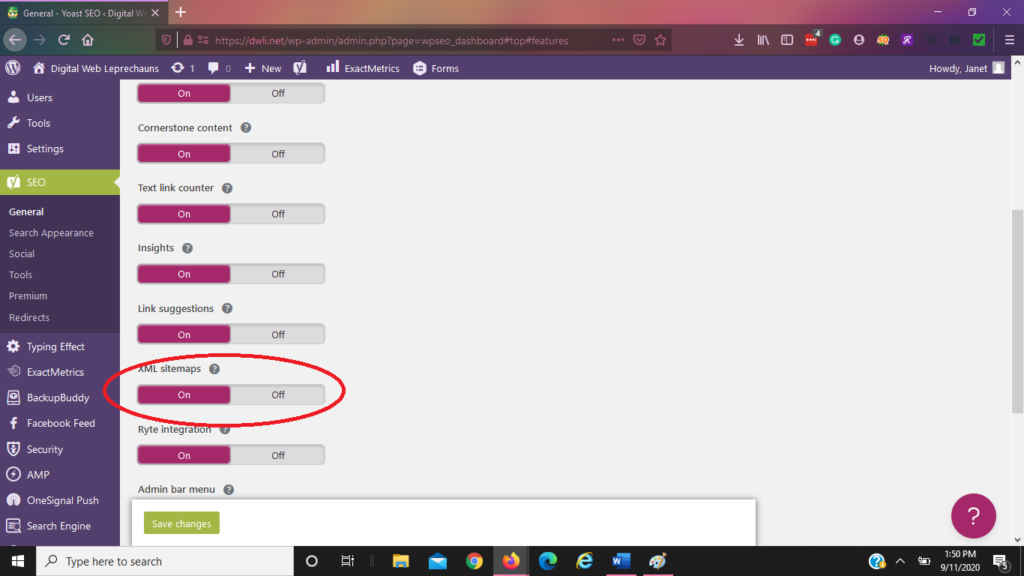 Once the XML sitemaps settings are switch on the YOAST SEO program will auto generate your XML Sitemap. This sitemap can be found at: yourdomain.com/sitemap_index.xml
You can further alter your sitemap by including or removing pages, posts, or certain taxonomies from your sitemap. To alter the default settings you may find them under search appearance> content types. In the example below by default all pages are included in the search results. This setting means all pages will be included in the xml sitemap. If for some reason you'd like a specific page to not appear on the sitemap that require a noindex code be added into the robot.txt file.

The same can be set for taxomomies, allowing categories, tags, as well as other custom taxonomizes to be included or removed from the sitemap as the user sees fit.
Once all your settings are saved your sitemap can be viewed at yourdomain.com/sitemap_index.xml. You can find and test out our Sitemap at https://dwli.net/sitemap_index.xml
Once your sitemap is created the next step is to submit your sitemap to search console's for indexing. Here at DWLI we know that SEO can be a complex troubling issue for sites to face and we would love to help you. Check out our SEO Program